The William E. Simon Foundation will match all new or increased donations, up to $10,000. YOUR gift can go twice as far to support vulnerable children right here in our community.
By supporting CASA of Morris and Sussex Counties YOU help to ensure that every child in foster care who has been abused or neglected will receive the in-depth support, advocacy, and mentorship of a CASA volunteer.
You can change the life of a vulnerable child.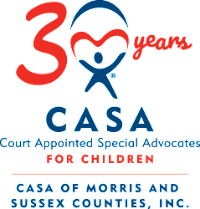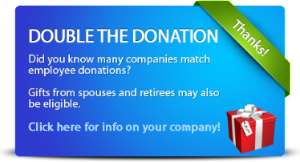 Will you please consider a tax-deductible investment in CASA to help every child in foster care have a happy ending?
We have raised $45,114.00 of our goal.
AW

I give my time as a CASA because I have the time to help those families that need my help. I enjoy being a CASA because it puts a smile on the families and the children's faces when I can be there for them. It's such a great feeling being a CASA. I know there are children out there that need my help.

LK

Being a CASA is something I have always wanted to do once I had my own children. I wanted other kids to have the same advantages my children did by having a loving family and a support system. CASA does all that and more. It is so rewarding to me to be able to help another child even if it's only in a very small way.

KM

I chose to become a CASA volunteer because I have always had great compassion for children who grow up in a disadvantaged environment, and I'd like to try and make a difference in the world in some small way.

MD

I was looking for a meaningful volunteer experience and have garnered valuable insight into our foster care system. The best part is working with the resource parents and observing the progress of the child I serve. I feel I'm making a difference by the care and attention paid to each child.

SH

"There is no mistaking that it feels good to help others. By getting involved, and not just talking about helping, it shows my children and the community how important it is to give back to others. I believe volunteering teaches many lessons, such as helping others, acceptance, diversity and kindness."